Sony tuo markkinoille kaikkien aikojen kehittyneimmän APS-C-kameransa Alpha 6700:n ja monipuolisen kompaktin haulikkomikrofonin ECM-M1:n.
Tekoälyn avulla toteutettu huipputarkka kohteen tunnistus ja uusin still-kuvan ja videon suorituskyky on ensimmäistä kertaa tiivistetty kompaktiin APS-C-runkoon.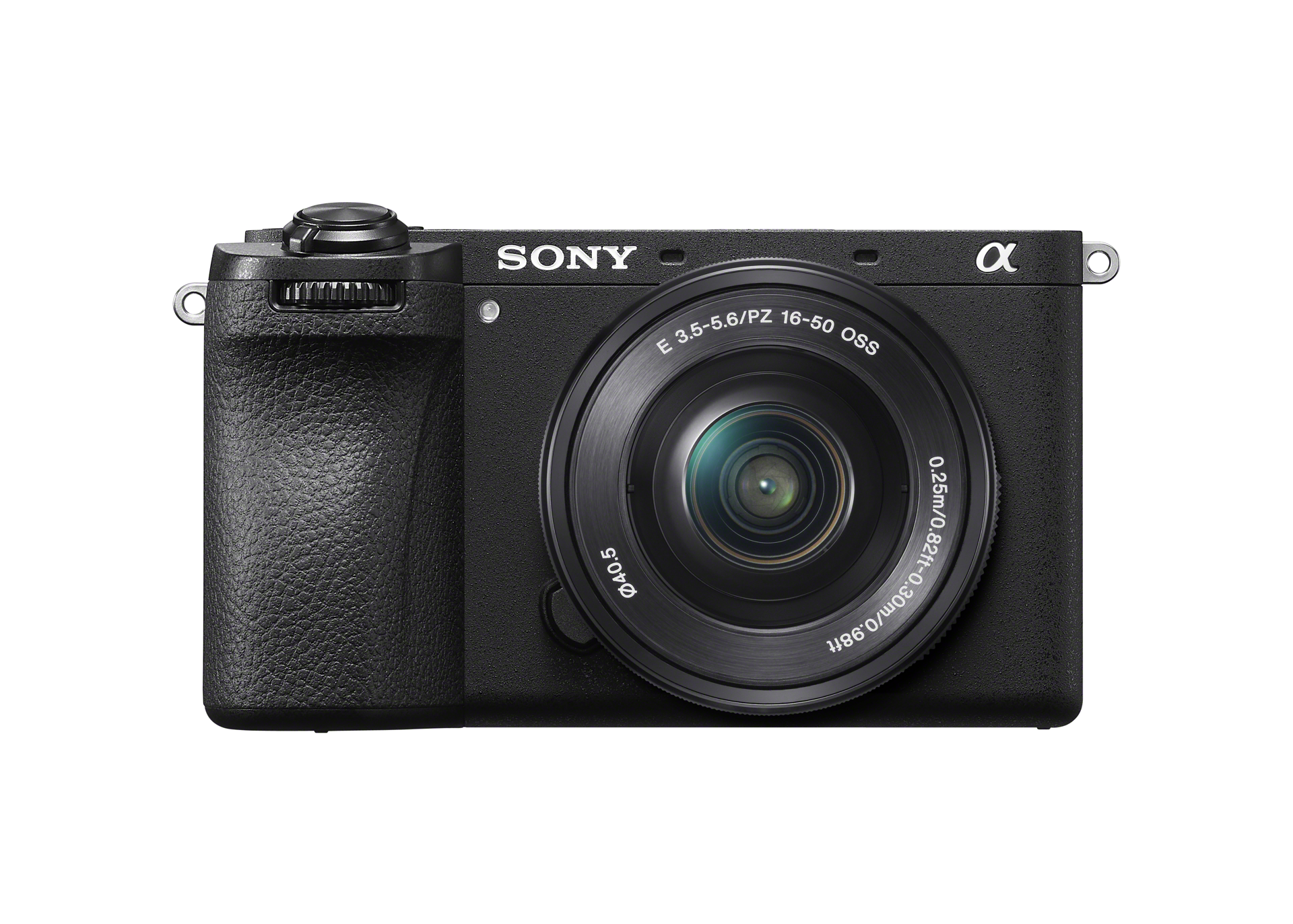 Sony julkistaa uusimman APS-C-peilittömän kameransa Alpha 6700:n. Tässä uudessa tuotteessa yhdistyvät uusimpien Alpha™-täyskennokameroiden ja Cinema Line -videokameroiden still- ja videokuvaussuorituskyky α6000-sarjan kompaktiin ja kevyeen muotoiluun. Tuloksena on Sonyn tähän mennessä kehittynein peilitön APS-C-kamera.
Haulikkomikrofoni ECM-M1
ECM-M1 on maailman ensimmäinen haulikkomikrofoni, jossa on kahdeksan valitsimella valittavaa äänitallennustilaa. Neljä mikrofonikapselia ja ainutlaatuinen beamforming-tekniikka yhdessä edistyneen digitaalisen käsittelytekniikan kanssa tarjoavat muun muassa stereo- ja useita muita eri äänitystiloja.
Sony launches its most advanced APS-C camera ever Alpha 6700 and versatile compact shotgun microphone ECM-M1
High-precision subject recognition by AI and the latest still image and video performance are condensed into a compact APS-C body for the first time
Sony announces the release of its newest APS-C mirrorless camera, the Alpha 6700. This new offering combines the cutting-edge still image and video capabilities from the latest full-frame Alpha™ and Cinema Line cameras with the compact and lightweight design of the α6000 series, resulting in Sony's most advanced APS-C mirrorless camera to date. ​
Combining an APS-C back-illuminated Exmor R® CMOS image sensor boasting 26.0 effective megapixels with the speed and power of Sony's advanced BIONZ XR® processing engine, the Alpha 6700 achieves exceptional imaging performance while maintaining a compact and lightweight design.
The camera supports high-resolution 4K video recording at up to 120fpsi, a wide latitude of 14+ stopsii for capturing details in harsh or under-lit conditions and features the S-Cinetone™ picture profile found in Sony's professional Cinema Line models for refined movie imagery that doesn't require colour grading, and it delivers stunning representation of human skin tones.
Highly accurate subject recognition with AI
Standard ISO sensitivity spans 100 to 32000 for both stills and movies, allowing high-sensitivity, low-noise shooting. Enhanced colour reproduction ensures subjects like people and plants are captured with natural hues, while Creative Look features allow unique visual expressions.
The AI processing unit is inherited from the α7R V, enabling high accuracy Real-Time Recognition AF (autofocus). Beyond the α6000 series' human and animal recognition, it now accurately identifies multiple subjects such as humans, animals, birds, insects, cars/trains, and airplanes, catering to diverse creative expressions. When paired with today's newly launched FE 70-200mm F4 Macro G OSS IIiii, it offers 105 mm to 300 mm focal lengths in 35mm full-frame equivalent, leveraging the power of telephoto zoom for high-quality shooting. Additionally, it's compatible with the broad array of E-mount lenses.
Excellent video performance compatible with 4K120pi
Harnessing data equivalent to 6K, the Alpha 6700 outputs superior 4K video, including support for high-frame-rate recording at 4K 120fps. It features S-Log3, offering 14+ stopsii, for stellar gradation. Also equipped with S-Cinetone, the Alpha 6700 delivers impressive skin tone depiction and subject highlighting, technologies honed through the Cinema Line development, while its AI-driven Auto-Framingiv smoothly tracks subjects, eliminating the need for manual camera movement. The body houses a Multi-Interface (MI) Shoe compatible with digital audio interfaces. Used in conjunction with the new ECM-M1 shotgun microphone, it allows for direct digital audio transmission, capturing high-quality, undegraded sound.
Mobility, operability, and connectivity unique to a compact and lightweight device
With a compact design (approx. 12cm × 7cm× 8cm. and weighing about 493g.v), the Alpha 6700 is highly portable. It claims a user-friendly, touch-operable vari-angle LCD monitor, coupled with a modern touch menu for effortless operation. A customisable front dial and a switching dial for still images, movies, and S&Q modes are also included. It is equipped with an optical 5-axis in-body image stabilisation system with 5.0 stopsvi of shutter speed advantage for stills and Active Modevii ensures stable footage.
In terms of connectivity, the camera now supports the Creators' Appviii for seamless uploads of videos and still images to cloud services. Sony also plans to roll out a new version of the "Camera Remote SDK" in July 2023, allowing remote operation and setting adjustments.
Environmental conscious and accessibility
Over the past 10 years, Sony has replaced approximately 379 tonnesix of virgin plastic with recycled plastic in digital cameras and digital video cameras. Recycled materials, including SORPLASTMx, are actively used for the camera body, reducing environmental impact without sacrificing functionality. In addition, it is equipped with a Screen Reader functionxi that reads menus and video playback screens aloud to assist operations, supporting the creative activities of a wide variety of creators.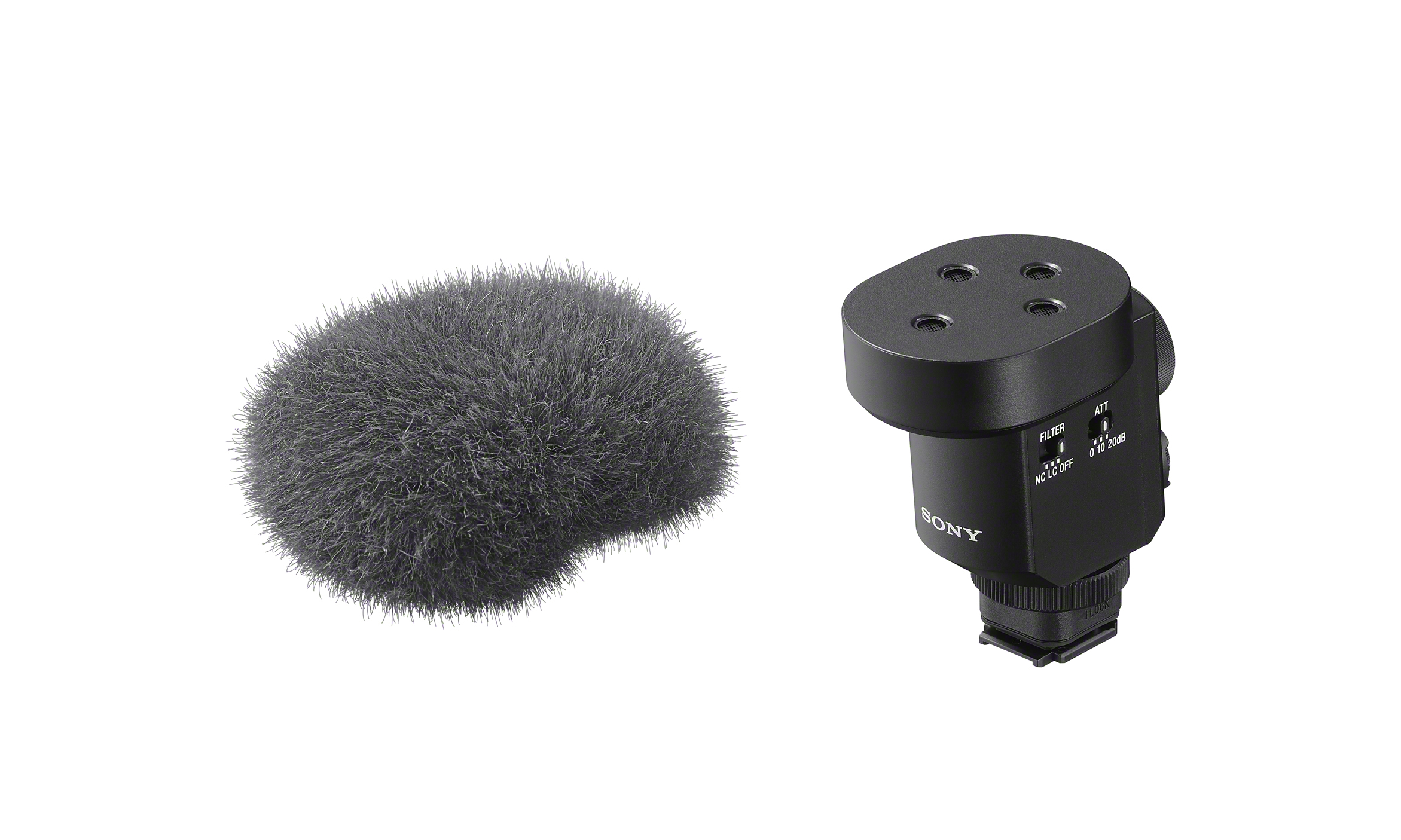 Shotgun microphone ECM-M1
The ECM-M1 is the world's first shotgun microphone with eight dial-selectable audio recording modesxii. With 4 microphone capsules and unique beamforming and advanced digital processing technology, it offers varied modes including stereo. Its ultra-directional mode captures targeted sound from the front (within a 30-degree width) and at the same time it effectively suppresses other sounds, dynamically adapting to ambient sound in the surroundings. This mode is ideal for interviews and selfie shooting where the subject is always in front of the microphone.
A newly added mode dial with a locking mechanism ensures easy, secure switching of sound pickup modes. The ECM-M1 features noise reduction utilities like a noise cut filter for reducing background noise and a low-cut filter for minimising vibration and low frequency noise. These filters are implemented through digital signal processing, maximising audio quality at the recording stage and thereby reducing the need for complex post processing. It also supports 4-channel recording (compatible cameras only), allowing safety recording in omnidirectional mode on channels 3 and 4, while channels 1 and 2 focus on selected directivity. Compact and lightweight, the ECM-M1 enhances mobility, empowering creators to capture high-quality audio in diverse situations. Simply clip the microphone into the Multi Interface Shoe on a compatible camera for direct power and audio connections without the need for extra cables or batteries. When connected via the Multi Interface Shoe of a compatible camera that features a built-in digital audio interface, the audio signal is directly transferred to the camera in digital form so that no degradation can occur. A simple switch also provides compatibility with a wide range of cameras using an analogue interface.
Pricing and Availability
The new Alpha 6700 will be available in August 2023 for approximately
​1800€ for body only
​1900€ for body and 16-50mm lens
​2200€ for body and 18-135mm lens
It will be sold at a variety of Sony's authorised dealers throughout Europe.
The new ECM-M1 will be available in August 2023 for approximately 420€ It will be sold at a variety of Sony's authorised dealers throughout Europe.
A product video on the Alpha 6700 and ECM-M1 can be viewed here https://youtu.be/ucSX37AC7DY
### 
Notes:
i QFHD (3840×2160). About 38% of the angle of view is cropped.
ii When shooting S-Log3. Sony internal measurement.
iii For details on the FE 70-200mm F4 Macro G OSS Ⅱ, please see the press release announced on July 12, 2023.
iv Valid only in video mode. The angle of view is narrowed because it is cropped from a 4K resolution image.
v Weight includes battery and memory card.
vi CIPA standard compliant, Pitch/Yaw direction, with FE 50 mm F1.2 GM attached, long exposure noise reduction off.
vii In Active Mode, the shooting angle of view is slightly narrower.
viii Check regional availability of services and applications via the URL below: Creators' App: https://www.sony.net/cca , Creators' Cloud: https://www.sony.net/cc/ Download app at Google Play and the App Store. Network services, content, and operating system and software subject to terms and conditions and may be changed, interrupted or discontinued at any time and may require fees, registration and credit card information.
ix According to Sony research. Recycled materials used for product body and accessories from April 2012 to March 2022.
x SORPLAS™ may not be used for the parts used depending on the production period.
xi Supported languages differ depending on the sales region.
xii As of the July 2023 press release. Sony research. As a camera microphone.